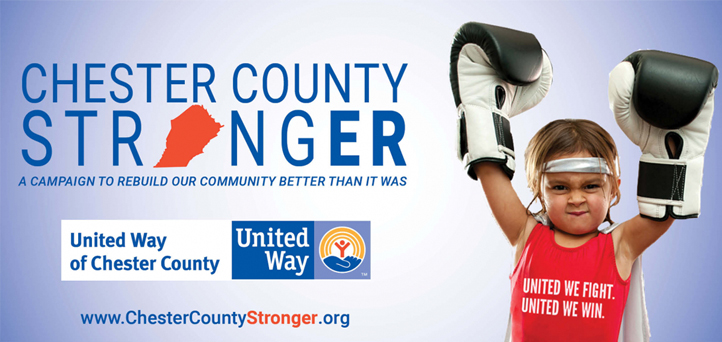 For over 75 years, United Way of Chester County has been fighting for the education, health, and financial stability of our community.
But the fight isn't over – in fact, it's just beginning again. And we're ready to fight for a STRONGER Chester County. No matter the obstacles, no matter the odds. We will surround the county's most critical problems and we'll fight.
THAT'S WHAT WE DO IN CHESTER COUNTY.
THAT'S WHO WE ARE. WE WERE BUILT FOR THIS AND WE'RE UP TO THE CHALLENGE.
In early 2020, Chester County was knocked down with a health and economic crisis the likes of which most of us have never seen in our lifetimes. It's time we get back up and fight. But this fight is different and will require new solutions to old problems. Our fall was great, but our rise will be even greater if we LIVE UNITED.
United Way of Chester County is proud to announce a shift in strategic focus from Covid-19 Rapid Response Funding to a new Community Impact and Innovation phase, beginning with the launch of our Chester County STRONGER Campaign – Rebuilding Our Community Better Than It Was. This new effort will transition our work from the highly successful Chester County Covid-19 Response Fund to a new impact agenda centered around RECOVERY, REBUILDING, and REIMAGINING a STRONGER Chester County.
ARE YOU READY TO JOIN US AND FIGHT?