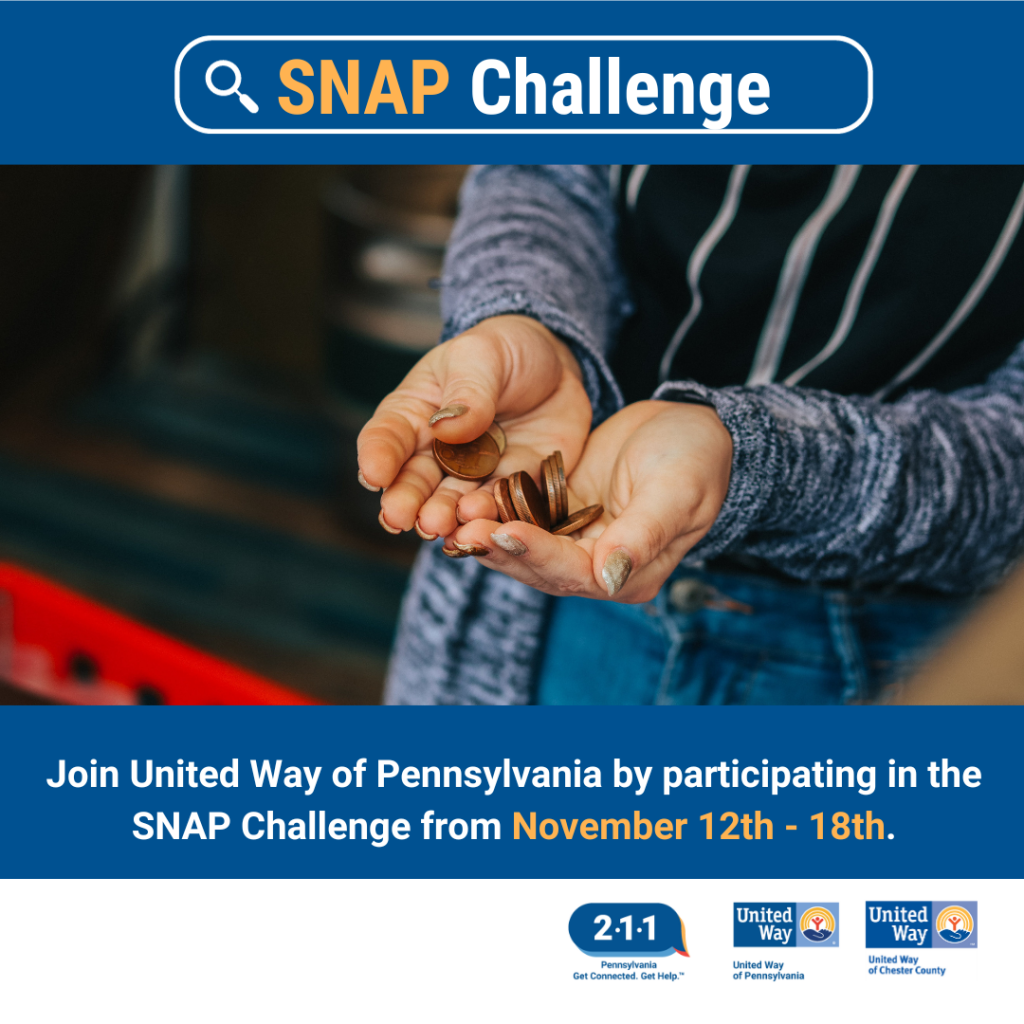 What is the SNAP Challenge?
The SNAP Challenge tasks you with living on the SNAP Budget for one week by following the average benefit for the size of your household. It can be easy to lose realistic perspective in the work that we do, as prices of goods and services increase and purchasing power decreases. This exercise will give you insight into the food insecurity that many SNAP recipients face, despite receiving benefits, and will bolster your advocacy toolkit with personal experiences. It is important to remember that while you are only taking on this challenge for one week, low-income families struggle month after month, and this challenge cannot truly compare to the financial barriers faced on a regular basis.
What Can I Do?
To make the SNAP Challenge effective, we need participants in this experience to document the purchasing power of SNAP dollars. If possible, engage your friends, family, media, and local legislators to join United Way in this powerful experience.
How Long Does the Challenge Last?
The Challenge will last from November 12th, 2023, to November 18th, 2023, or one week.
Where Do I Start and What are the Rules?
Determine what you will be spending for the week based on the chart below.
| | |
| --- | --- |
| Household Size | Average SNAP Weekly Benefit |
| 1 | $36.23 |
| 2 | $64.38 |
| 3 | $176.77 |
| 4 | $224.54 |
| 5 | $266.54 |
| 6 | $319.85 |
| 7 | $353.54 |
| 8 | $404.08 |
Head to the grocery store and buy your food for the week. It might help to plan your meals out for the week to know exactly what you must purchase. Remember, there is little to no room in your budget for additional items that grab your attention while shopping.
While you are shopping please track the prices of the items that you are purchasing, even if it is just keeping the receipt.
During the Challenge, take photos, videos, and notes on your experiences, being sure to highlight struggles. Document your experience on social media and use the hashtag #UWPA_SNAPChallenge and tag local media and your legislators.
All food purchased and eaten during the challenge week must be included in your budget. Avoid eating food at home. If you must, account for it in your SNAP budget.
Avoid accepting free food from friends, family, or at work, including at receptions, briefings, or other events where food is served.
What's Next?
After completing the Challenge, let's talk about:
What did you think going into the Challenge? Were there any unforeseen barriers that you faced?

How did you change your weekly eating habits?

Were you ever hungry because you did not have enough food, or did you eat smaller portions?

When you were shopping, did you have to put anything back?

What foods did you find were most expensive?

Did you shop at the store you typically go to? If not, why?

How did you feel after the Challenge?

How will you advocate for SNAP?
Please also share your experience with United Way of Pennsylvania! Send Katie Kerr an email (KKerr@uwp.org) with a copy of your receipt or a list of the prices of the items you brought. Also, send any photos or videos you take along with a testimonial about your experience. Within the testimonial, answer a few of the questions above and let United Way of Pennsylvania know where you shopped and if you shopped somewhere you typically do not because of the price difference.