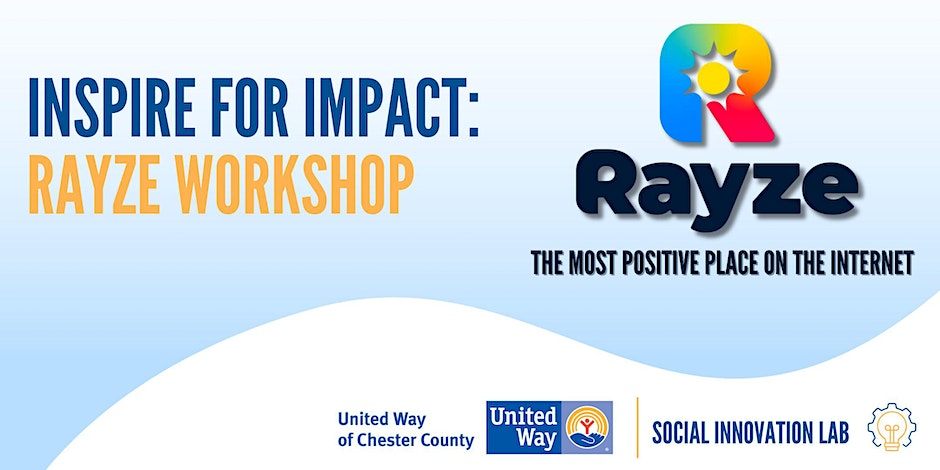 Inspire for Impact: Rayze Workshop
Join us to explore the innovative realm of charitable giving and collaboration alongside Carl Nassib, United Way of Chester County board member, former NFL defensive end, and founder of the Rayze app.
Rayze is on a mission to bridge the gap between nonprofits and the next generation of philanthropists, and at the heart of this mission is a transformative mobile platform that acts as an all-in-one solution. This platform brings together nonprofits, individuals, and businesses, uniting them in the spirit of giving and paving the way for a new era in philanthropy; one that is more accessible and convenient than ever before.
At the workshop, Carl will delve into the full spectrum of Rayze's products and services, including:
Streamlining the donation process on your website
QR code donation links in just two simple steps
Comprehensive Mobile Corporate Matching Software
Volunteering and gamification opportunities
Join us and become an integral part of this exciting movement that's poised to redefine how we impact our communities.
Please note that space is limited and we are only accepting individuals from nonprofit organizations. We are also only able to accommodate one person per organization.
Register Today for Our Next Blood Drive
Join us as we come together to save lives and spread hope through the simple act of giving blood.
Date: November 17, 2023
Time: 10am-3pm
Location: United Way of Chester County Headquarters
Register Here
Have questions? Contact Edwina Johnson at 610-429-9400 x4115.
2022-2023 Report to the Community Now Available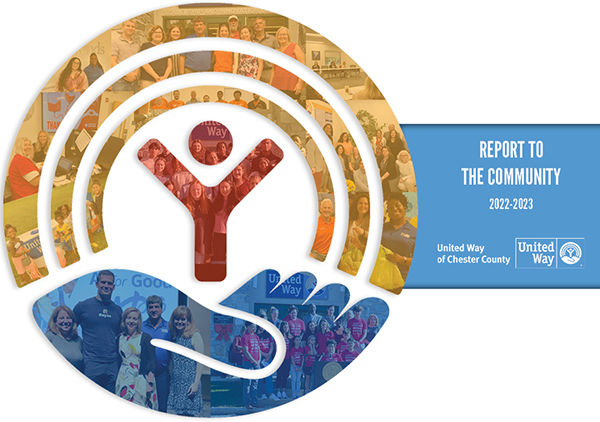 As we reflect on the past year, we are excited to share the incredible progress we've made in advancing our mission and serving the community. The highlight of our year was the successful transformation of a vision into a reality – the acquisition and development of our new 5,000 sq. ft. building. In just nine short months, this space has become a dynamic hub for community engagement. It serves as our staff headquarters, a new home for Leadership Chester County, and the venue for numerous board meetings and nonprofit events.
Our new building has already touched the lives of many individuals and organizations. It has hosted essential activities like nonprofit board meetings, mentor trainings, American Red Cross Blood Drives and more.
However, the accomplishments of the past year go beyond our new building. We completed 89 additional reassessments for the mobile home project, pushing the total to 1,014, distributed nearly $2 million in grants, initiative funding, and donor-directed gifts, and cultivated deeper relationships with numerous nonprofits across the county. We proudly received a $200,000 federal community project funding grant through Congresswoman Houlahan's office to support our new Social Innovation Lab, and graduated 19 future board leaders from Leadership Chester County.
Together, we are fortifying and revitalizing our community, making it a more vibrant and resilient place for all. Thank you for being part of our shared success story.
Please enjoy our 2022-2023 Report to the Community here.
Investing in Our Community
Last fiscal year, we proudly invested $2,530,806 in our community through grants to agencies, special initiative funding and donor designations. Below is a brief overview of our impact:
2,782 tax returns were prepared through the Volunteer Income Tax Assistance program (VITA), generating an economic impact of over $5 million
89 successful Mobile Home Tax Reassessment appeals were completed, pushing the total reassessments to 1,014
342 individuals received financial coaching, counseling, and other supportive services from our Financial Stability Center
19 students graduated from Leadership Chester County and gained valuable business, leadership and entrepreneurial skills
23 organizations utilized our new building space, saving them an estimated total of $14,082 in rental fees
$265,000 raised for our Community Impact & Innovation Fund through special events, Live United in Music, Chester County Stronger Golf Classic & AK at Uptown
55 lifesaving units of blood were donated through our first quarterly blood drives