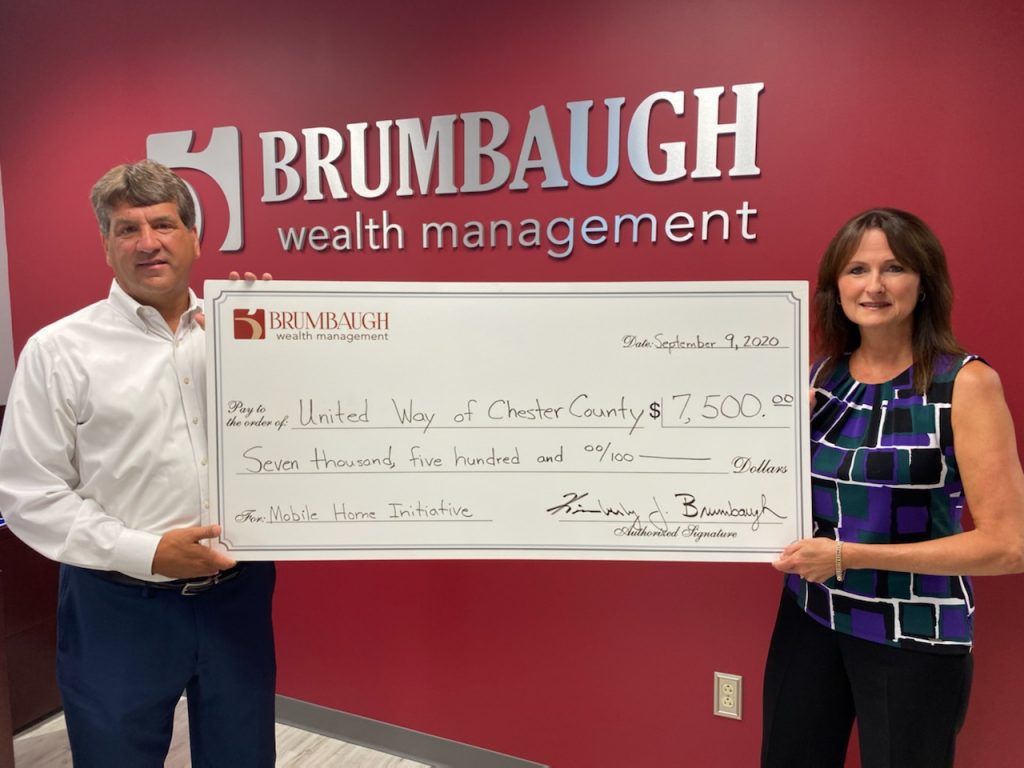 2022 Faces of Philanthropy Recipient
We are thrilled to share that Brumbaugh Wealth Management, LLC and United Way of Chester County have been selected as one of 23 Philadelphia BusinessJournal 2022 Faces of Philanthropy for our collaboration on the United Way Mobile Home Tax Reassessment project.
To date we have completed 756 reassessments, saving mobile home owners $6.7 million that they should never have owed if not for a flaw in the state tax code. Brumbaugh Wealth Management, LLC has funded one out of every 5 reassessments to date!
This program recognizes philanthropic partnerships between for-profit and non-profit organizations in the Philadelphia region. 
---
Mobile Home Tax Reassessment Program
2022 Reassessment Forms Now Open
United Way of Chester County is continuing its important Mobile Home Tax Reassessment initiative and has an ambitious goal of completing 500 successful appeals this year. Partnering with Legal Aid of Southeastern Pennsylvania, LCH Health and Community Services and local food pantries, the Mobile Home Tax Reassessment program offers free assistance to mobile home owners in Chester County to file for property tax reassessment appeals.
In just three years, the program has:
Assisted in 756 successful appeals
Lowered assessments by 70%
Saved each mobile home owner an average of $885.35 on their annual taxes
Collectively saved these mobile home owners $6.7 million over the next 10 years that they should have never owed to begin with if not for a flaw in state tax code.
Although some progress has been made, there is still work to do. There are 3,600 mobile homes in Chester County and only 27% have been reassessed.
To learn more about the Mobile Home Tax Reassessment project or to fill out the 2022 form, click here or contact Darshana Shyamsunder, Senior Director, Community Impact Initiatives, at 610.429.9400 ext. 4112.
If you are interested in financially supporting this initiative, please contact Doug Kaiser, Director of Resource Development, at 610.429.9400 ext. 4102.
---
Informative Webpage for Local Hospital Closures
The closure of Tower Health's Jennersville and Brandywine Hospitals has resulted in the loss of crucial healthcare support in the central, western and southern parts of Chester County, including emergency medical care.
Chester County Government has provided a webpage that provides resources and answers to questions that arose due to the two hospital closures – click here.
---
Free Tax Help Available
Take advantage of the Volunteer Income Tax Assistance (LTM VITA) program to file today.
Service locations include Coatesville, Downingtown, West Chester, Exton, Pottstown, Phoenixville, Royersford and Parkesburg, as well as a pop-up site in Landenberg.
This program is made possible in part with a grant from the United States IRS and funding from the United Way of Chester County Community Impact and Innovation Fund.
To learn more about locations, times, and what to bring, click here. 
---
Pennsylvania Homeowner Assistance Fund Accepting Applications
The Pennsylvania Homeowner Assistance Fund is a housing-related program to assist Pennsylvania homeowners facing financial hardship due to the COVID-19 pandemic. The program will provide financial assistance to homeowners for qualified mortgage and housing-related expenses to avoid delinquency, default, foreclosure, or displacement.
Learn more here.
---
United Way of Chester County Joins United Way of PA in Call for PA Tax Relief
Twenty-eight states, including Delaware, Maryland, New Jersey, New York and Ohio, already offer a state Earned Income Tax Credit to their hardworking citizens
While many Chester County residents have returned to the workforce, they still face a variety of economic challenges such as rising food, housing, utility, transportation and childcare costs. A state Earned Income Tax Credit would be a good first step to providing relief to working Pennsylvanians. Our Chester County Delegation, along with the rest of the Pennsylvania General Assembly, and Governor Wolf have the opportunity, as a part of the 2022-23 Commonwealth budget, to provide that relief to working households across our Commonwealth through enactment of a state Earned Income Tax Credit.
Read more here.
---
Hurry – Don't Miss Out!
Limited Foursomes Available
Trust us, you do not want to miss our 1st Annual Golf Outing at Penn Oaks Golf Club on April 26, 2022!
Corporate sponsorships of all levels are available. This event, presented by Meridian Bank, will benefit our Community Impact & Innovation Fund.
For more information, please contact Christina Wagoner at 610-429-9400 x4101 or cwagoner@uwchestercounty.org, or click here.